Play-to-earn gaming (P2E) has revolutionized the gaming world, bringing players a whole new level of entertainment and ownership. It combines the entertainment value of traditional gaming with the new level of freedom and ownership leveraged by the power of blockchain technology.
In traditional games, creators have held the upper hand, wielding the power to design and develop captivating games, while gamers would pay for the privilege of playing games.
However, the notable shift in the dynamics of the gaming industry means players are no longer mere spectators but active contributors, utilizing their skills and expertise to shape the game world and create value. In this new dynamic, players can earn rewards in the form of digital assets that hold tangible real-world value, which can be traded, bought, or sold.
Imagine a world where you can play your favorite online games and also earn a living while doing it. With play-to-earn gaming, that world is now a reality. Whether you're a casual gamer or a professional player, the possibilities are endless, and the rewards are truly limitless.
The Best Play to Earn Games for 2023
Decentraland (MANA)
Tamadoge (TAMA)
The Sandbox (SAND) 
SecuredVerse (SVC)
Axie Infinity (AXS)
RobotEra (TARO)
Lucky Block (LBLOCK)  
Swords of Blood (SWDTKN)
Splinterlands (DEC)
Silks (STT)
Battle Infinity (IBAT)
Star Atlas (SOL) 
How Do Play-To-Earn Games Work?
Play-to-earn crypto games provide players with an exciting and lucrative opportunity to earn a living while doing what they love: gaming. With the play-to-earn Web3 games, a new term was created, GameFi, a combination of the words "game" and "finance."
GameFi takes the gaming experience to the next level by incorporating financial incentives and crypto rewards for players participating in various in-game activities and advancing through their levels. With GameFi, players can earn cryptocurrency, non-fungible tokens (NFTs), in-game tokens, or other tokens with measurable value outside the gaming ecosystem. These in-game assets can be traded on exchanges or converted into popular currencies such as Ethereum or Bitcoin, which can then be swapped for fiat currency. The in-game currency can also be used on DeFi platforms for yield farming, liquidity mining, staking, and as collaterals. Plus, they can be used for in-game transactions and in-game purchases, providing a new level of financial freedom and autonomy. Additionally, GameFi enables players to invest in blockchain games and game development projects, creating a new way for game developers to raise funds and grow their projects.
GameFi applications based on the play-to-earn model are powered by innovative technologies such as blockchain technology and smart contracts to ensure transparency, interoperability, security, and decentralization. They give players complete control and ownership over their assets. 
Players can complete quests, win battles, or trade in-game items to earn rewards. These rewards are stored on the blockchain, ensuring they are immutable and cannot be tampered with. The value of these rewards can fluctuate based on supply and demand, creating a new level of investment opportunity for players.
Play-to-earn crypto games represent an exciting new frontier for gamers and investors alike, however, players may need to invest significant time and effort into mastering the game mechanics. On the other hand, game developers face the challenge of striking a balance between rewarding players for their time and expertise while ensuring blockchain gaming remains entertaining and captivating.
Top Play to Earn Crypto Games
After you've learned the basics of play-to-earn gaming, it's time to move beyond learning to actually playing so you can get firsthand experience with top crypto games. Check out these top play-to-earn games for 2023 to start earning rewards right away.
1. Decentraland (MANA)
Decentraland is an Ethereum-powered virtual reality platform where users create,  experience, and monetize content and applications. It's an open-source metaverse project that is totally user-owned, giving individuals much flexibility to create their own settings, avatars, marketplaces, digital infrastructures, and apps.
Users can also purchase virtual land and create their own micro-worlds with virtual trees, aircraft, digital skyscrapers, movie theaters, and hotels, i.e., anything available in the physical world.
Decentraland is the first fully decentralized world entirely owned by its users, where ownership data is recorded through smart contracts.
MANA is the cryptocurrency that powers this vibrant virtual world and is used to purchase anything, including LAND,  the game's real estate, wearables or clothes with the avatar theme, and other collectibles.
Earning With Decentraland: Users can turn their time in Decentraland into a lucrative source of income by leveraging their creativity, skills, and entrepreneurship.  One of the primary ways to earn money in Decentraland is through buying virtual land and holding onto it as its value appreciates over time. Another way is creating and monetizing experiences within the virtual world, such as games, art galleries, and virtual stores. Creators can earn MANA by charging admission fees or selling virtual goods.
As the virtual world continues to evolve, users can earn by offering virtual services such as design, development, and marketing. Alternatively, users can earn rewards and potentially find new earning opportunities by participating in Decentraland's active community of developers, creators, and enthusiasts and contributing to the platform's development.
2. Tamadoge (TAMA)
Tamadoge is an exciting new meme coin project offering a unique and engaging play-to-earn gaming experience enabling players to earn real-world value. This innovative project aims to create a decentralized gaming universe where players can earn Tamadoge tokens while enjoying fun and engaging gameplay.
At the core of Tamadoge's gaming universe is a set of fun mini-games with a range of genres and themes, allowing players to win rewards in the form of Tamadoge tokens. Players breed, raise, and care for Tamadoge pets and use them to participate in Tamadoge arcade games. 
The crypto game will be released later this year, with augmented reality also coming to the Tamaverse. The AR app will allow players to take their pets out into the real world to explore and hunt for treasure.
Tamadoge (TAMA) is a meme coin with a unique utility used for buying Tamadoge pets and playing Tamadoge arcade games. TAMA token was one of the biggest new coins in 2022, with a 2,000% increase from its presale price.
Tamadoge has a small supply of just 2 billion tokens and a deflationary mechanism.
Players can purchase assets, food, and pet toys in the Tamadoge pet store. Each purchase comes with a 5% burn mechanism, which reduces the circulating supply of TAMA tokens over time. This burn mechanism helps to ensure the long-term value of TAMA by reducing its total supply and increasing its scarcity, which could potentially drive up its value in the market.
Earning With Tamadoge: Users can earn Dogepoints by using TAMA tokens to play Tamadoge games. The players with the most Dogepoints at the end of each month are declared winners and can claim rewards from the gaming prize pool known as the Dogepool. 
Players must first connect a wallet containing Tamadoge NFTs to start playing Tamadoge games and earning rewards. Owning rare Tamadoge NFTs can give you a significant edge, such as a 70% better chance of finishing in the top three of your chosen games' leaderboards than regular Tamadoge NFTs. These NFTs could potentially boost your virtual pet's strength, stamina, speed, agility, vision, and luck by up to 95%. 
However, it's worth noting that only 100 of these ultra-rare NFTs were created and quickly sold out during Tamadoge's first auction. Typically players will earn tokens for achieving certain milestones or completing specific objectives within the game. 
3. The Sandbox (SAND) 
The Sandbox is a virtual world focused on original content development and a play-to-earn metaverse built on the Ethereum blockchain. It employs a 3D voxel technique to allow players to create, control, and commercialize their game experience with SAND, the platform's native utility and governance token. SAND, the game's native utility token, facilitates all transactions and interactions across the Sandbox ecosystem. With SAND, you can buy land, clothes, avatars, and thousands of other goods on the marketplace.  Sandbox also has another ERC-20 token, LAND, an NFT token representing virtual land ownership. 
The Sandbox is one of the most successful NFT games and a pioneer in the metaverse NFT gaming niche. It allows players to design their own games, assets, and applications on top of their LAND parcels, construct their own virtual worlds, and create adventures in the social center, all of which can be sold for a profit. 
Earning With The Sandbox: Players can use their virtual LAND to construct a customized world and rent it to other users to earn the native token, SAND. Otherwise, LAND can be built up to increase its value and sold for profit. Earning SAND tokens in the marketplace is also possible by creating and selling art. SAND tokens can be used for trading, governance, mortgages, earnings, and value transfer.
Players can also earn SAND tokens by participating in competitions and playing games on the platform.
4. SecuredVerse (SVC)
Securedverse is a free-to-play and play-to-earn (P2E) model offering players a unique, engaging experience through its First-Person Shooter game. Players can earn SVC coins through various game modes and the leaderboard system. With a range of heroes and maps to choose from, Securedverse offers a thrilling and dynamic free-for-all shooter game. Players will enjoy an immersive gaming experience challenging their strategic and tactical prowess and collaborating and strategizing with other players. 
If you have a keen interest in the Securedverse gaming ecosystem, there's no better time than now to purchase SVC tokens at the lowest possible price point. This is because Securedverse is currently amid its highly-anticipated presale phase, making it the perfect moment to invest in this promising project.
Each SVC token is currently priced at an attractive rate of 0.0143 USDT, with the price set to increase to 0.0186 USDT in the next phase. Only 273 million SVC tokens are available for purchase during this period, making it a unique opportunity to invest in this revolutionary project.
SecuredVerse's pre-alpha version is set to be released in the first half of 2023.
Securedverse is being developed by Portsea Games, a renowned game development company with a proven track record of creating VR games with diverse features. The team plans to continuously improve the game experience by adding new maps, heroes, and game modes. Additionally, staking, UX/UI updates, and special events are included in its exciting roadmap.
The platform promotes decentralization, fast and secure transactions, and community ownership through SVC, its native ERC-20 token.
Earning With Securedverse: Securedverse offers an immersive gaming experience and an excellent reward system. Players can earn rewards in SVC tokens by participating in various in-game activities and demonstrating their skills through gameplay. The higher they get in the leaderboard system, the more rewards they get. Players can also stake the SVC tokens to accrue more rewards. 
5. Axie Infinity (AXS)
Axie Infinity is a popular NFT game enabling players to collect and mint NFTs representing digital pets known as Axies. Players can breed or buy Axies to build up a collection to use in battles and earn rewards for victories. Axies have strengths and weaknesses based on their genes.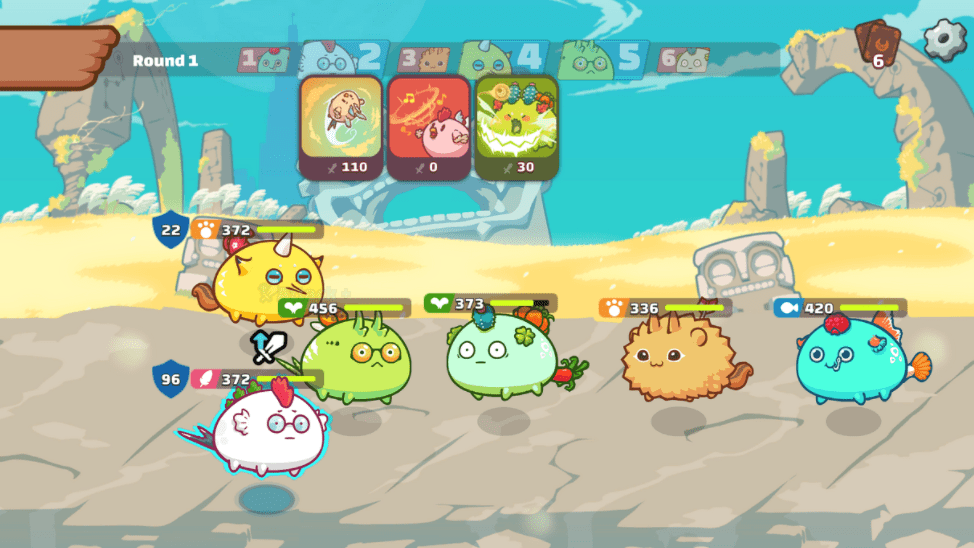 Players train Axies in Adventure mode, battling AI Axie to increase their "Experience" (XP) for the Arena mode. Participants are paired with players with the same Matchmaking Rating (MMR), and the more opponents they defeat in player-versus-player (PVP) mode, the higher their MMR.
Axie Infinity rewards players with AXS tokens, which can be exchanged or used to decide the game's future.
Axie Infinity is based on the Ethereum blockchain and powered by AXS and SLP tokens. Axie Infinity Shards (AXS) is a governance token allowing AXS holders to vote on the game's future development plans, such as updates and treasury balance usage. Users can trade assets from different P2E games built on the same blockchain. For example, you can exchange your AXIE with Ethereum.
SLP tokens, also known as Smooth Love Potion, can be won as prizes in battle or adventure modes and used to breed Axies. As the game's popularity grew, these animals became increasingly expensive – a tendency still evident in 2022.
To start playing Axie Infinity, you must get three Axies from the Axie Marketplace, which can be a barrier to entry for some people.
Earning With Axie Infinity: Once you have acquired an NFT Axie in the game, you have full ownership of it, which means you can sell it to other players or use it to earn incentives within the game. Axies can be traded on any Ethereum-based NFT marketplace, with prices depending upon each Axie's strengths, different traits, and rarity in the game.
Completing quests and fighting monsters earns players crypto tokens as rewards. Axie Infinity also allows users to earn AXS tokens by playing, which they may then use to have a say in the game's development.
Additionally, players can breed their Axies to create more powerful teams and generate additional NFTs to sell. 
6. RobotEra (TARO)
RobotEra is an innovative play-to-earn metaverse crypto game in which players defend Taro, a planet that has been destroyed, while using in-game tools to restore the terrain and establish infrastructure to increase its worth. The game's scripting language is designed for dynamic 3D scenes, sound, physics, user interaction, payments, and more. Players can connect to other worlds, create theme parks and attractions, attend concerts, etc.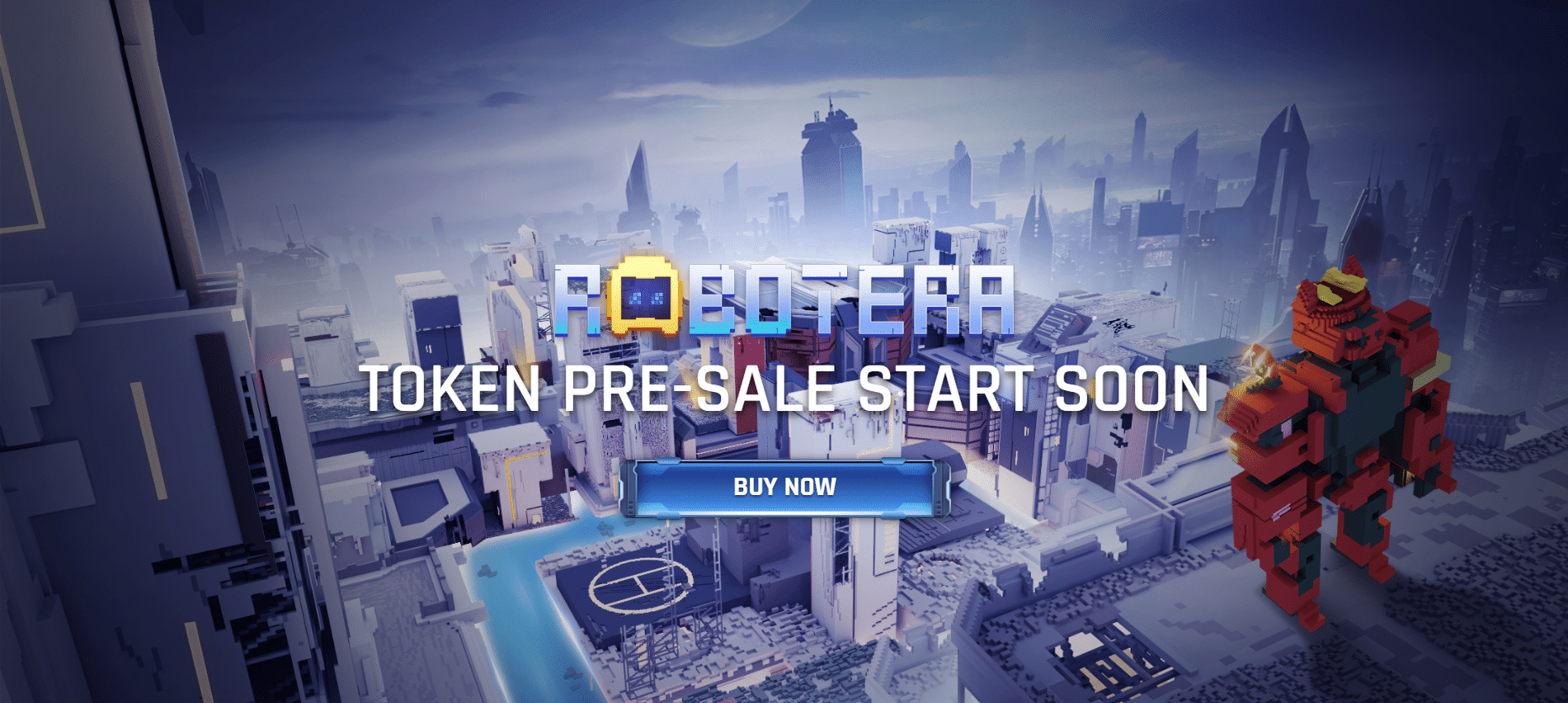 The project is currently conducting a successful presale that started in November 2022. The game's native ERC-20 token, TARO, is available for purchase in the initial stage of the presale for $0.02. With only two presale stages remaining and prices increasing by 60% from the first to the final stage, RobotEra is one of the best ICO cryptos to invest in, and interested parties should join now. The project's native TARO token is currently in the first stage of its presale. 
As one of the leading NFT games in the market, RobotEra utilizes non-fungible tokens (NFTs) to provide transparency and seamless trading of in-game assets. These NFTs, including robot companions, player avatars, and plots of land, are all unique and come with their own attributes. 
Earning With RobotEra: The play-to-earn feature is at the heart of RobotEra's ecosystem, allowing players to earn rewards by mining minerals, gathering raw materials, constructing factories, and renting out valuable real estate for advertising. Quest challenges are also rewarded, and players can exhibit their original work in the museum. Additionally, the project provides investors with passive income through TARO staking. Investors must own TARO tokens to benefit from in-game assets and the gaming experience. 
From mining resources for robot companions, which can be sold in the in-game NFT marketplace, to staking TARO tokens for rewards and selling advertising spots, there are many ways to earn in this innovative play-to-earn game.
7. Lucky Block (LBLOCK)  
Lucky Block is another top play-to-earn crypto game, offering over 2,700 games consisting of table games, slots, a live casino, sports betting, and a sportsbook. It provides a few options that cater to casual and high-stake players looking to pass the time to high-stakes players.
Along with traditional games like poker, blackjack, baccarat, and roulette, players can play games such as Hands of Anubis, Triple Royal Gold, HipHop Pop, Paradise Trippies, Dino Luck, Lucky Cloverland, and Glory of Egypt. Players can also try Money Train 3, declared the best slot game of 2022 by iGaming Business. Lucky Block also provides a comprehensive sports betting service with thousands of pre-game and in-play markets for over 30 sports, including football, basketball, boxing, and eSports.
Major competitions and tournaments, like the Premier League, NBA, NFL, Counter-Strike, and League of Legends, are covered, and trusted companies such as BetRadar and Oddin supply the betting odds. 
Each Lucky Block game is backed by smart contracts, so players know they engage in a fair and random number-drawing process.
The game's native crypto asset LBLOCK increased by over 6,000% since launching in January 2022. 
Earning With Lucky Block: The project has just released its much-anticipated NFT series, with only 10,000 Lucky Block NFTs that will ever exist. Along with winning games, as an exclusive token holder, you'll have guaranteed entry into the daily prize draw accessible only to NFT holders on a lifetime basis. Plus, you can participate in weekly main competitions and supplemental NFT draws for a chance to win exciting rewards such as a Lamborghini, 1M in BTC, etc.
8. Swords of Blood (SWDTKN)
Swords of Blood (SWDTKN) is a unique play-to-earn game with a captivating storyline, engaging game mechanics, and cross-platform support.
The presale of SWDTKN tokens, the native in-game currency, is in its final stage, enabling early investors and token holders to receive various benefits, including exclusive access to the game's closed beta, automatic whitelisting to Swords of Blood NFT sales, phygital giveaways, and more. 
With a focus on creating an enjoyable gaming experience, the development team allows players to choose between the roles of battle mages, warriors, and other classes in the fallen world of Ezura and participate in quests to acquire the best loot available. Players can enjoy collecting powerful weapons and armor, crafting items, and forging powerful weapons to create overpowered characters that suit their playstyle. The game also offers a PvP mode, adding an extra layer of excitement for players who enjoy competitive gameplay. 
The game's leadership comprises industry veterans who have contributed to some of the most prominent video game franchises and brands.
Swords of Blood hopes to serve as a bridge between traditional video games and Web3 games, bringing the accessible earning potential of crypto to millions of players in a familiar, entertaining format.
Earning With Swords of Blood: You can earn SWDTKN by playing and winning tournaments or a PvP season rank. The higher a player finishes in the tournament, the bigger and better the reward. At the end of each season, players ranked #10 and above will receive a share of the total prize pool, which amounts to 15% of the total token supply.
Players must use SWDTKN to pay for specific hero levels to progress in the game. All in-game transactions, such as fees, fines, and rewards, will require using the SWDTKN token. The in-game marketplace, including characters, skins, and battle passes, will also be purchasable using cryptocurrency. Although the game is free-to-play, certain content can only be unlocked using SWDTKN later in the game. 
9. Splinterlands (DEC)
Splinterlands is a blockchain-based game and one of the top trading card games, enabling players to collect cards as NFTs. It initially provides players with a limited number of cards, and players earn more as they win additional rounds.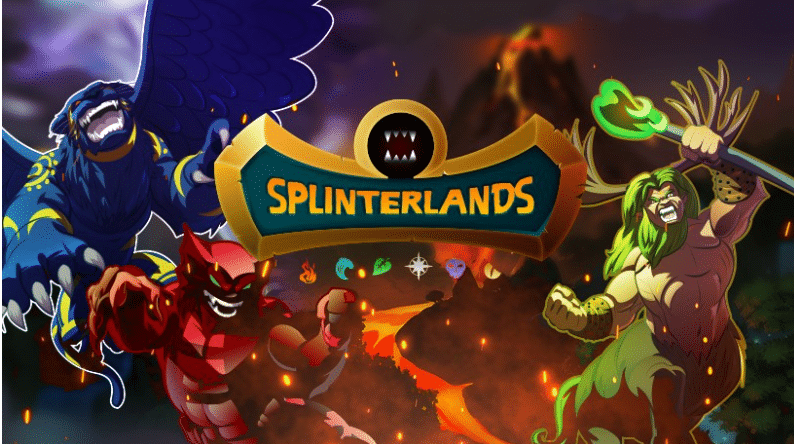 The game has an engaging storyline, stunning graphics, and a vast collection of cards players can collect and use to build their decks. Each card has unique attributes, strengths, and weaknesses, which add to the strategy and complexity of the game. Players can level up by combining two or more of the same card. The game has a skill-based matchmaking system, which ensures fair and competitive battles.
Splinterlands is powered by its native token, Dark Energy Crystals (DEC).
Earning With Splinterlands: Players can earn rewards through Dark Energy Crystals (DEC), which can be traded for other cryptocurrencies or fiat currencies.
To earn DEC, players participate in battles with other players or in tournaments. Players can also earn DEC by completing daily quests, leveling up, or purchasing booster packs that contain rare and valuable cards.
Players can also trade cards to earn DEC tokens.
The value of cards is determined by their rank, with high-ranking cards being considered the most valuable and likely to generate the most significant profits.
10. Silks (STT)
Silks is a blockchain-based play-to-earn game that has created a virtual world centered around horse racing. Unlike traditional games, Silks is an entire metaverse, bridging reality and the virtual world. The platform tracks the registered birth of real thoroughbreds and incorporates them into the game. It also tracks data such as the horses' training history, race records, and breeds to create unique digital horses represented as NFTs. Players can take ownership of virtual horses in the shape of NFTs linked to real-world thoroughbred racehorses using the game's native token, STT. 
Earning With Silks: Silks is a top NFT game allowing players to sell fractional ownership of their horses and earn a percentage of the rewards when the real-world counterpart wins races.
Furthermore, players can enter their horses into races and receive STT rewards when their real-world counterparts win races.
The game also allows players to buy land, convert it into horse farms, and add infrastructure to increase the value of their assets.
11. Battle Infinity (IBAT)
Battle Infinity is a metaverse gaming platform enabling players to earn rewards across 6 platforms. Players can enter the Metaverse with their avatars and engage with other players in real-time. They can customize their avatars with various fashion accessories and hairstyles, available in the Battle Marketplace as NFTs. Each avatar is unique due to the individual customization options.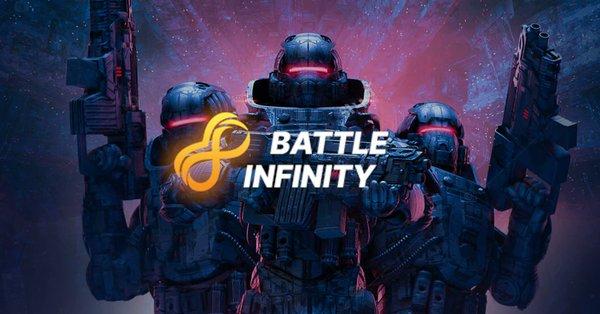 Players can participate in matches, leagues, and the IBAT Premier League by buying the platform's native token, IBAT. 
Additionally, they can monetize their land and earn IBAT tokens by purchasing advertising space on digital billboards and acquiring players to strengthen their teams.
Earning With Battle Games: Battle Games offers players a range of games and enables them to compete in the Battle Stake for significant rewards. Players also have the option to stake their coins. Even if players don't win major battles, they can still earn tokens by being highly active. Battle Infinity utilizes a global staking pool to distribute IBAT tokens to the most active players. Players can use Battle Swap, a decentralized exchange on the platform, to convert their IBAT tokens into fiat currencies.
12. Star Atlas (SOL) 
Star Atlas is a multiplayer metaverse play-to-earn game set in the year 2620. In a highly futuristic scenario, humans, aliens, and sentient robots are in an ongoing struggle for resources, territory, and political domination. Players are citizens of Star Atlas and can influence the outcome of the conflict. They can choose to join either the Mud, Ustur, or Oni factions, each with its own strengths and weaknesses. Faction selection is permanent. 
Star Atlas incorporates deflationary mechanisms that destroy resources used in creating objects when new items are produced. When players engage in combat and lose, their NFT spacecraft is permanently destroyed and burned, contributing to the game's deflationary economy. As players venture further from NPC-populated settlements and explore uncharted territories, the game becomes increasingly challenging, and players who get out alive are generously rewarded.
The platform has two main tokens, ATLAS and POLIS. ATLAS is used to purchase NFTs, while POLIS provides voting rights. As the game was built on the Solana blockchain, players need SOL tokens and a Solana wallet to process transactions and track NFTs.
Earning With Star Atlas: Players can earn rewards by contributing to the resolution of conflicts in Star Atlas and can captain deep-space, crewed spaceships to discover terrestrial assets. Once a player discovers these assets, they can be mined, refined, and traded using the Universal Marketplace. Players can engage in combat, station construction, deep space exploration, professions, etc., to complete missions to earn the in-game currencies. They can also trade NFTs with other players on the in-game marketplace and stake the in-game assets.
Tips for Maximizing Your Earnings in Play to Earn Crypto Games
Here are some common denominators to maximize your earnings in a play-to-earn game:
Completing tasks and challenges: Many play-to-earn games reward players for completing missions or challenges within the game, like mining resources, completing quests, or building structures.
Staking tokens: In some play-to-earn games, players can earn money simply by holding or staking the game's native token. This incentivizes players to hold onto the game's native currency to earn passive income and contributes to the overall stability of the game's economy.
Selling in-game items and NFTs: Play-to-earn games often allow players to create and sell NFTs and in-game items to other players on the secondary market for extra cash. This can include everything from rare weapons and armor to virtual plots.
Participating in governance: In some play-to-earn games, players can earn crypto rewards by participating in the game's governance. This could include voting on proposals, contributing to the game's development, or helping to moderate the community.
Referring new players: Many play-to-earn games offer referral bonuses to players who bring in new users. This helps to grow the game's community and rewards players who are actively promoting the game.
Final Words
In conclusion, the play-to-earn gaming industry is booming and offers a unique opportunity to bring the accessible earning potential of crypto to millions of people in a familiar and fun way. By combining blockchain technology with gaming, players can generate income while enjoying a unique gaming experience.
However, it's essential to remember the potential security risks and follow the best security practices for securing your crypto assets. With the emergence of new play-to-earn games and the continued growth of existing ones, 2023 is expected to be a massive year for P2E games, with teams relying on their creativity.