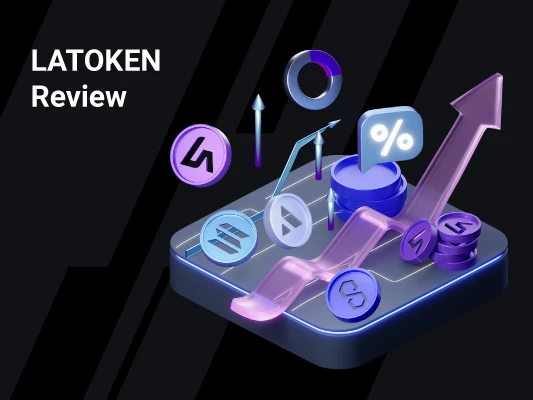 As a cryptocurrency trader, you were undoubtedly faced with the dilemma of having to choose an exchange to suit your investment needs among a staggering number of cryptocurrency exchanges out there.
To help you pick the right trading platform that suits your needs, CoinStats regularly reviews leading platforms like Binance, Coinbase, or Kraken and relatively small platforms like the LATOKEN Exchange and presents their advantages and drawbacks.
LATOKEN is an Estonian cryptocurrency exchange created in 2017. It supports a wide variety of digital assets for crypto-to-crypto trading and offers several investment solutions for staking, crowdfunding, and investing in DeFi coins. LATOKEN exchange offers high-speed transactions and NFT and stock markets to help you to diversify your portfolio.
Our LATOKEN exchange review will take you through one of the most popular decentralized crypto exchanges, discuss the LATOKEN platform's services and products, pros and cons, trading fees, security, etc., and demonstrate how to start trading on the platform to maximize profits.
Let's get right to it!
LATOKEN Pros and Cons
Our LATOKEN review has looked into some of the exchange's pros and cons described below.
LATOKEN Pros
Wide Range of Supported Coins and Trading Pairs
LATOKEN supports a wide variety of coins and crypto trading pairs. Apart from the mainstream coins, it also offers various altcoins and less popular trading pairs such as BIOFI/USDT, HCS/USDT, 5STAR/USDT, or HELPS/USDT.
LATOKEN offers interesting and innovative projects available on the platform and invests a lot in due diligence to ensure that the listed projects are worth your attention.
The platform has a user-friendly interface that's intuitive and easy to navigate.
The LATOKEN platform uses two-factor authentication and SMS verification to protect user funds. LATOKEN uses a 4-layer transaction security system, ensuring there are no leaks. Additionally, Latoken claims it stores around 99.5% of crypto assets in cold storage – adding another layer of protection.
With a $242 million monthly turnover (Feb 2022) and the ambition to list new and promising projects, the LATOKEN crypto exchange is ideal if you're looking to list your tokens.
Note: Several scammers pretend to be LATOKEN listing managers, so ensure to talk to the company rather than an imposter.
The LATOKEN exchange offers a secure and easy-to-use app for Android and iOS, allowing you to trade on the go without any problems.
Creating a LATOKEN account allows you to access a special referral program and receive a referral link. If an invitee signs up using your link and verifies an email, both you and your invitee receive a credit that will return part of your fees paid on LATOKEN as cashback.
LATOKEN Cons
LATOKEN's trading volumes are significantly lower than other crypto exchanges, posing issues when you try to remove certain assets quickly.
The LATOKEN exchange has no demo account, so novices can't test the platform with fake money before moving to real assets. The platform doesn't provide any notable tutorials or a help center to answer your questions or help you if you get stuck.
Unsupportive Customer Support
The LATOKEN crypto exchange gets negative reviews for its slow and inefficient customer service. LATOKEN reviews mention long waiting times for getting help from the customer support team. The only way to contact customer support is via tickets or email, but no live chat is offered.
No LeverageLATOKEN doesn't offer margin or leverage trading. As the LATOKENplatform develops, it might add margin trading as most cryptocurrency exchanges provide it.
While LATOKEN is officially an Estonian company registered in the Cayman Islands, some experts claim it's just a cover for a Russian organization.
LATOKEN charges high commissions per trade. Both takers and makers pay 0.49%, while on most of the top platforms, trading fees are below 0.2%.
While LATOKEN offers a wider variety of coins compared to other exchanges, it also misses some popular ones like Ripple, Bitcoin Cash, Stellar, and Litecoin.
What Is LATOKEN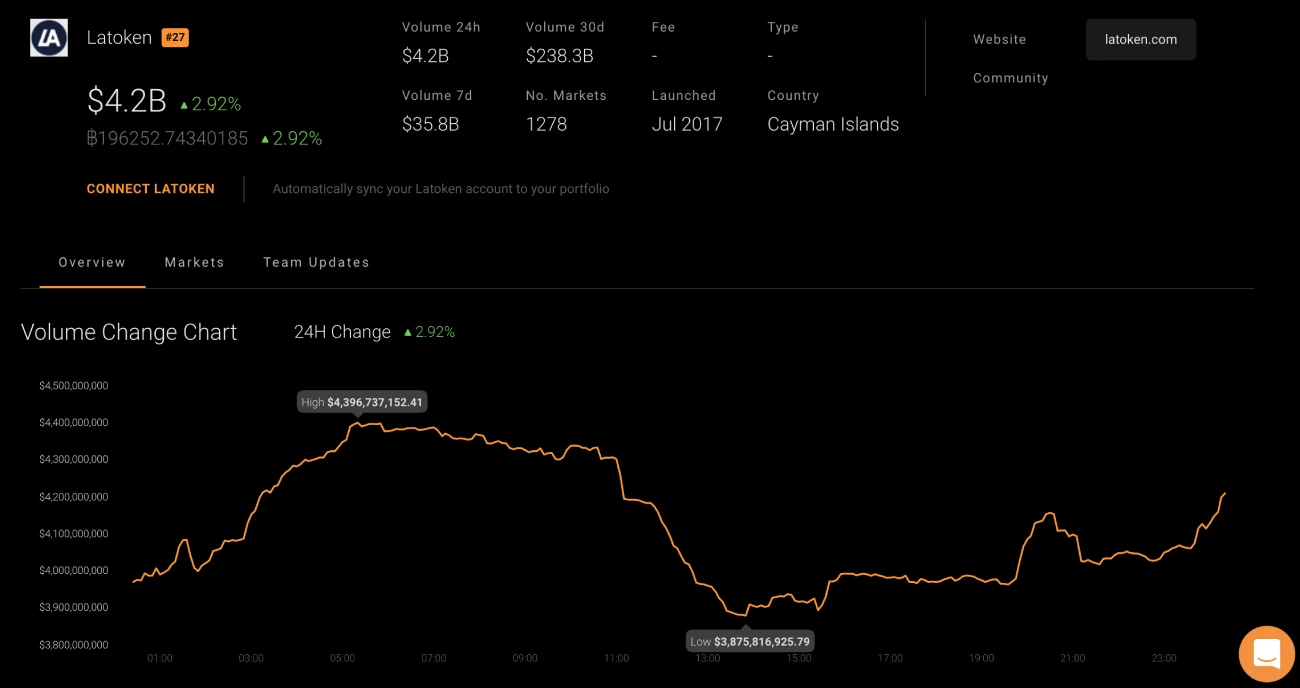 LATOKEN is a digital asset exchange launched in December of 2017 that provides a multi-asset trading platform for both cryptocurrencies and tokenized assets. It offers a wide range of less-known cryptos, easy-to-use UI, robust security, high-speed transactions, a solid mobile app, etc. The platform differentiates itself from most exchanges by offering NFT markets for tokenized real-world assets.
LATOKEN relies on DAG technology (directed acyclic graph), which differs slightly from blockchain technology, to enable high-speed and transaction volume without many delays. 
The exchange has its own token, LA, serving its base currency. LA token is used to pay trading fees and is an exchange pair for all the platforms' currencies. The token gives users a 50% discount on trading transacted with the coin and has been used for trading tokenized shares of Apple, Tesla, Google, etc., and gold, oil, and real estate ETFs.
LATOKEN believes that LA can be used to tokenize real-world assets.
While LATOKEN may seem like a great platform to diversify your holdings, it has notable issues like high fees, no fiat support, no leverage, and unsupportive customer service.
Most LATOKEN reviews have complained about issues with withdrawing or depositing funds, and a LATOKEN ex-employee has accused the company of listing scam coins through the company's Twitter account.
LATOKEN Company Overview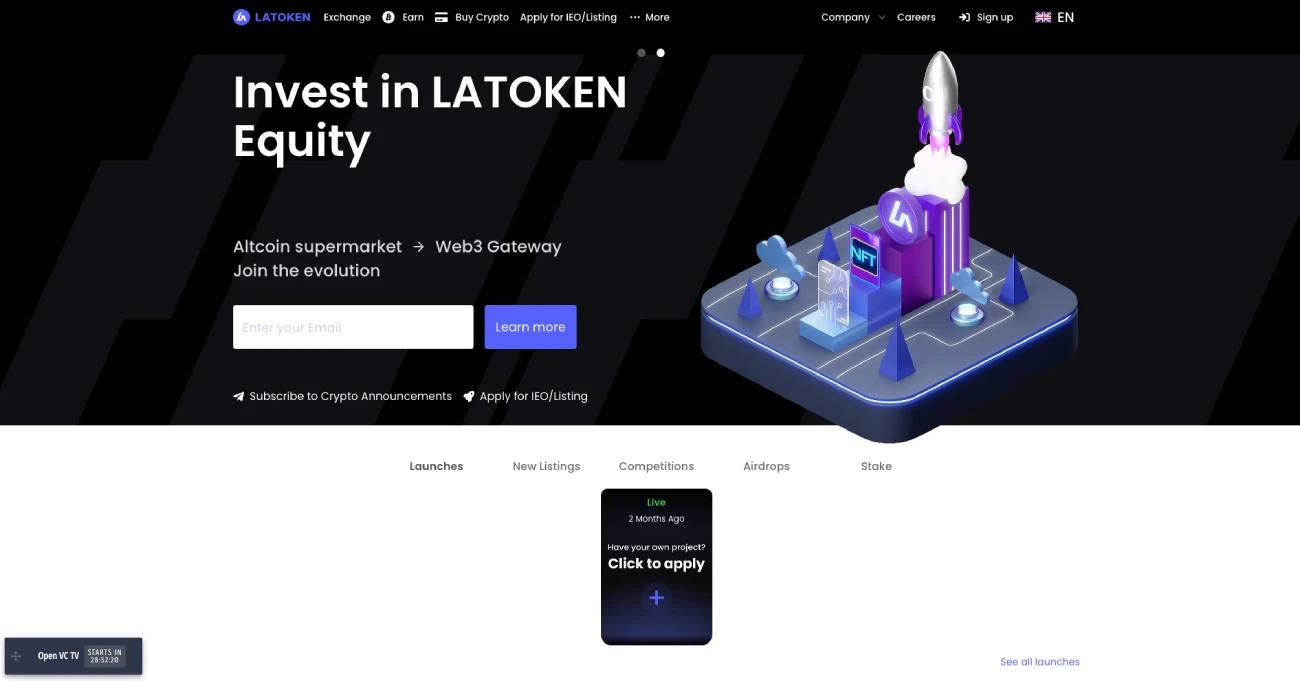 LATOKEN company is based in Tallinn, Estonia, but registered in the Cayman Islands as LiquiTrade Limited. However, some publications claim that LATOKEN is a Russian exchange.
LATOKEN Supported Countries
LATOKEN supports different countries worldwide, with over 200,000 registered users on the exchange. Most LATOKEN users are from Australia, the UK, China, and Switzerland.
The platform has such language options as English, Mandarin, Spanish, French, Indian, Italian, Korean, and Indonesian.
Several countries aren't supported by the platform, including USA, Bosnia And Herzegovina, Syria, North Korea, Sri Lanka, Tunisia, Uganda, Iran, Pakistan, Iraq, Ethiopia, Trinidad and Tobago, and Yemen.
Is Latoken Regulated
According to the LATOKEN team, the platform follows AML regulations by requiring active traders to perform KYC checks and doesn't operate in countries with strict cryptocurrency regulations, including the US.
LATOKEN has its fair share of controversy like some other exchanges, with a few Latoken scam accusations, which ultimately weren't proven.
LATOKEN Founders
Valentin Preobrazhenskiy, a respected stakeholder in the crypto world, is the founder and CEO of LATOKEN.
Preobrazhenskiy also has a few other projects under his belt and significant financial background. After getting internships in Sberbank and Vneshekonombank, he became a chief specialist in RAO UES (Russian Electric Power Holding).
Preobrazhenskiy moved to investment banking and worked as Senior Associate in CERA and Director of Research in Spectrum Partners (one of the major regional hedge funds). He has also created a fund of his own called Avega Capital.
In 2014, Preobrazhenskiy created Zalogo, a platform connecting borrowers and mortgage lenders, which he sold afterward.
In 2017, Mr. Preobrazhenskiy created LATOKEN, often linked to Russia due to the founder's nationality and notable Russian-speaking team. Preobrazhenskiy also managed the Founders Institute's Russian Chapter.
LATOKEN has been the primary sponsor of a series of seminars known as the Blockchain Economic Forum.
LATOKEN Products and Services
LATOKEN cryptocurrency exchange has some additional features highlighted below:
IEO Campaigns
You can create IEO (initial exchange offering) campaigns on LATOKEN. On the LATOKEN website, under the exchange tab, there's a section where you can set up crowdfunding projects. Before setting, you must contact the company directly. Only if the IEO platform approves your request can you start a campaign.
LA Trading
The LA token can be used for many on-platform transactions and as a trading pair to many coins on the LATOKEN exchange.
VCTV
Users get access to VCTV, the site's video portal., where they can learn more about various crypto teams, watch some trend analyses, or learn to raise capital for early-stage startups.
They can also get more information about all the previous events by checking the Past Tab.
LATOKEN Supported Currencies
LATOKEN supports over 60 digital currencies and 145 trading pairs since it supports IEOs.
You can use the platform for trading major currencies like Ethereum (ETH), Bitcoin (BTC), Tether (USDT), etc., or altcoins like Stellar, Basic Attention Token, etc.
The native LA token is also quite popular among traders, and you can pair it up with other digital currencies.
You can't use the platform to deposit fiat money, as LATOKEN is a crypto-to-crypto exchange that doesn't support fiat-to-crypto trading. Additionally, LATOKEN exchange doesn't support PayPal or a wire transfer. However, you can deposit digital currencies directly from a crypto wallet or purchase featured coins directly on the website.
Crypto Types
LATOKEN offers several noteworthy trading categories like "VC-backed" coins, i.e., a list of cryptos that a venture fund has allegedly backed.
Additionally, you can choose DeFi, CeFi, Infrastructure, and other filtering options that might help you find some coins to invest in.
LATOKEN Fee Structure
Cryptocurrency exchanges charge trading fees, deposit fees, and withdrawal fees.
Like most crypto exchanges, LATOKEN doesn't charge any fee for deposits.
LATOKEN trading fees are somewhat higher than on other platforms. For example, Latoken charges 0.49% for takers and makers, while others only charge 0.2% (Binance charges 0.1%).
It's worth mentioning that the platform provides several ways to reduce these fees. If you pay the commissions in LA tokens, you get a 74% discount. Another way to reduce fees is by increasing trading volumes.
Withdrawal fees differ from currency to currency and are among the highest in the industry.
LATOKEN also enables you to trade Perpetual Futures. The futures market allows you to trade contracts that agree to buy or sell a specific cryptocurrency at a future date for a certain price. LATOKEN Perpetual Futures trading fees are among some of the lowest ones.
LATOKEN Controversy
This LATOKEN review would not be complete without discussing the negative reviews highlighted below:
Deposit and Withdrawals Problems
LATOKEN users repeatedly complain about experiencing troubles when depositing or withdrawing their funds.
The exchange often closes some of its cryptocurrencies for withdrawals without warning users about withdrawal closures.
Additionally, users deposit money, but it doesn't show up in the balance. Users complain about deposits not showing up on their balance on the feedback on Google Play. One of the explanations is that LATOKEN has a minimum required deposit amount for each currency. If you deposit less, your money disappears and is not subject to a refund.
It's difficult to say if these issues result from the poor state of the exchange's tech or if they have other reasons.
Scam Allegations
In LATOKEN reviews and Twitter history, you may find users claiming that the company is a scam and rips off its customers. Users claim that when they sell cryptocurrencies, they get only half or even a quarter of the value they were supposed to get and cannotcontact the company's customer support for that reason.
Some LATOKEN reviews mention that their cryptocurrencies disappeared as those assets were simply removed from the website, and others suspect fake liquidity.
How to Buy Crypto on LATOKEN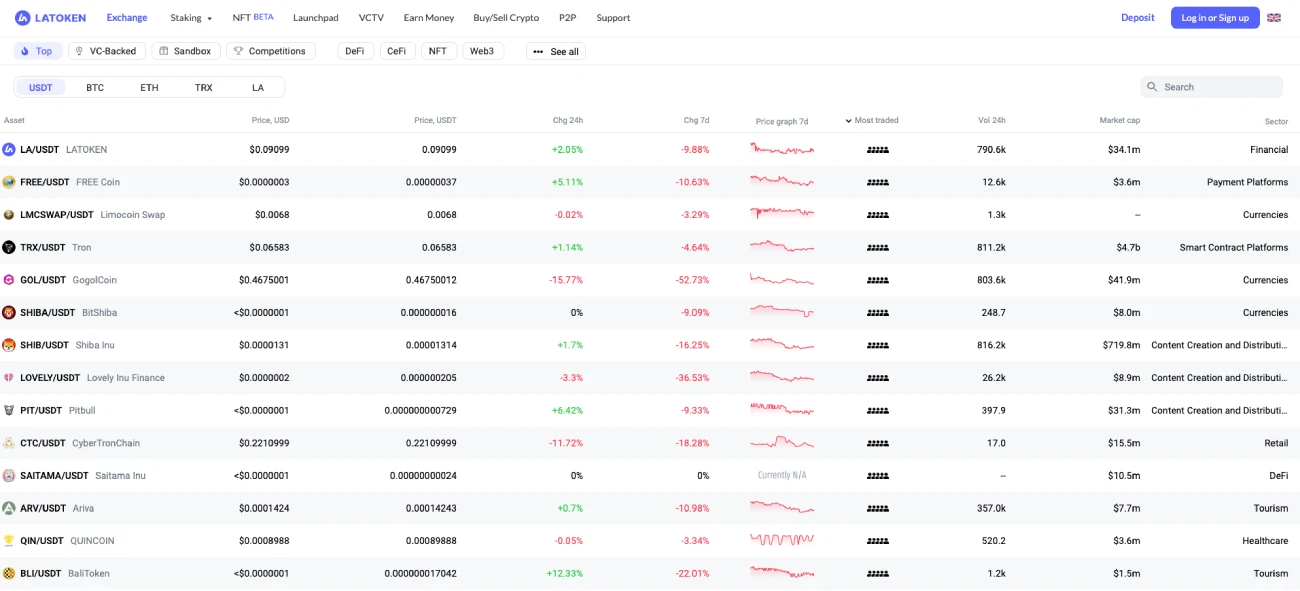 Follow our step-by-step guide for buying digital assets on LATOKEN:
Step #1: Sign Up
The sign-up process on LATOKEN is easy. You can authenticate with a Google account or create one with an email:
Enter email & password;
Verify your email with the code sent to you;
These steps will get you a Tier 0 account, which comes with a 1000 USD /24h withdrawal limit, no access to Token Sales, and no access to Alternative Tokens.
To get higher limits and access the full scale of LATOKEN products and services, you must provide personal information and verify your identity with an ID or driver's license.
More about the tiers and KYC process can be found on the Latoken website.
Step #2: Deposit Funds
You must now fund your LATOKEN account.
You can purchase major cryptocurrencies such as USDT, BTC, ETH, LTC, XRP, XLM, ATOM, TRX, and EOS with a credit card right on the platform.
Alternatively, you can transfer crypto coins from a wallet or another exchange. LATOKEN charges no deposit fees, but the minimum deposit is 0.0005 BTC.
To learn more about various wallet types, check our Wallets and Exchanges review.
Step #3: Check the Fees
Before making a transaction, it's essential to consider all the fees and minimum deposit requirements. While LATOKEN doesn't charge deposit fees, its trading and withdrawal fees are higher than the industrial average and vary depending on cryptocurrencies. So, we suggest you check the fees and minimal deposit amounts before proceeding with the deposit.
Tip: Consider depositing a small amount to ensure everything goes smoothly and you're not charged more than you expect. It will also allow you to test the platform and see if you like it.
Step #4: Start Trading
Now, you're all set to start trading. The process is similar to trading on other exchanges. You must select the "Buy" or "Sell" tab and fill in the required information under "Price," "Amount," "Limit Order," "Good Till Canceled," "Buy BTC" (or "Sell BTC), etc.
Setting the "Price" determines the price you want to buy or sell a specific digital asset for. "Amount" refers to the number of cryptocurrencies you want to buy or sell. You can also choose between a "Limit Order," where you limit how many assets you want to purchase and at which price, and a "Market Order," for the algorithm to buy/sell assets at the current market price immediately.
Once you've set up all these parameters, you can press "Buy BTC" or "Sell BTC" to perform the trade.
We highly recommend using a reliable crypto portfolio tracker like CoinStats, to manage all your crypto assets across several exchanges and wallets from a single platform.
Note: DeFi is a continuously growing Web3 segment, so you're welcome to visit our What is DeFi guide to learn all about it!
Conclusion
The LATOKEN decentralized exchange offers cryptocurrency investors a rich suite of cryptocurrencies, altcoins, crypto pairs, advanced products and services, a user-friendly trading view, a referral program, and high security.
On the other hand, LATOKEN fees are high, and many negative reviews claim the exchange to be a scam.
Is LATOKEN exchange safe? It's hard to answer. The exchange hasn't registered any hacking incidents and undertakes high-security measures; however, many users claim to have lost their funds on the platform.
We hope our full LATOKEN review will help you in your crypto journey!