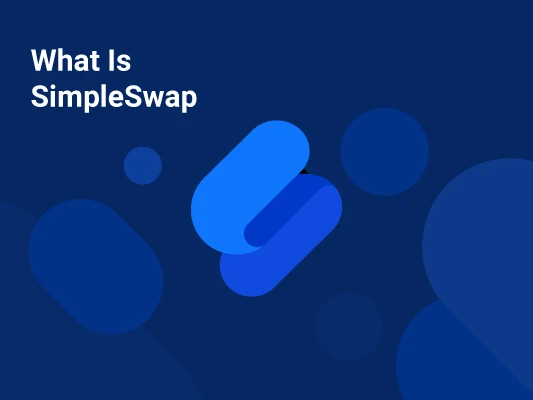 SimpleSwap is an easy-to-use instant crypto exchange that enables users to trade, buy, or sell crypto assets through several cryptocurrency exchanges and provides over 500 cryptocurrencies.
The SimpleSwap crypto exchange was launched in 2018, aiming to simplify the swapping or buying of crypto instantly, including with a credit or debit card, Google Pay, or Apply Pay. The platform is free from sign-up or trade limitations and has a user-friendly interface that provides an easy exchange process.
In this SimpleSwap review, we cover everything you need to know about SimpleSwap's reliable service, SimpleSwap fees, features, and the SimpleSwap trading system to help you decide if it's a suitable exchange for you.
So without further ado, let's get started!
What Is SimpleSwap
SimpleSwap is an instant crypto platform registered in the Marshall Islands. The platform was launched in April 2018, aiming to make the exchange process straightforward and without any complications or limitations, i.e., users aren't required to register or sign up on the platform. Traders can simply visit the website or open the app, enter the transaction details, and process it.
SimpleSwap enables users to trade their crypto assets or buy new assets for fiat currencies through numerous cryptocurrency exchanges and provides over 500 coins.
The SimpleSwap trading system is integrated into the largest crypto exchanges to enable instant coin exchanges with no deposit storage. SimpleSwap users don't have to worry about choosing the most profitable exchange rate because the system works with 15+ trading platforms and exchange partners, including OKEx, Bittrex, and Binance, to find the best exchange rates for them.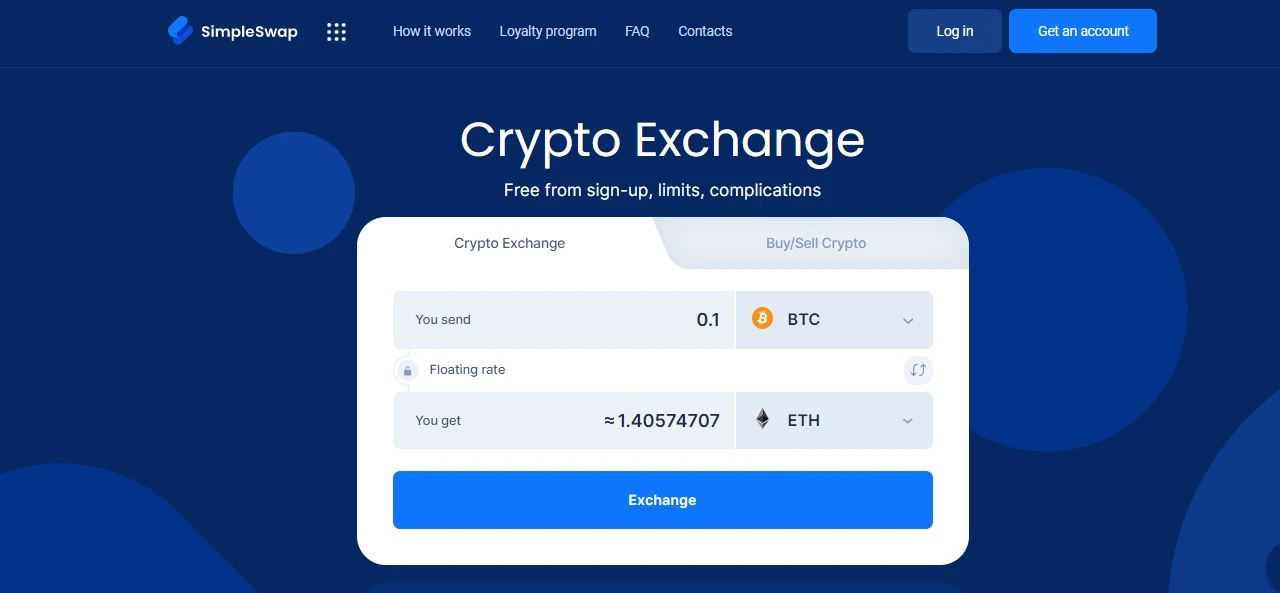 In addition to the classic API with a floating rate, the platform also offers fixed-rate exchanges allowing traders to see the exact amount of crypto they'll get after the swap before the exchange process. Both the fixed rate API and the classic API with a floating rate can be easily integrated into different wallets and services.
SimpleSwap also offers its own crypto wallet, SimpleHold, that can be used as a browser plugin and is based on AES encryption.
The company offers an affiliate program, sending a unique affiliate link to new users registering on the exchange platform. Every time someone uses this link, the user receives up to 90% of the exchange profit.
Additionally, the SimpleSwap Loyalty Program allows users to get BTC cashback for every exchange made on SimpleSwap.
SimpleSwap Coin (SWAP)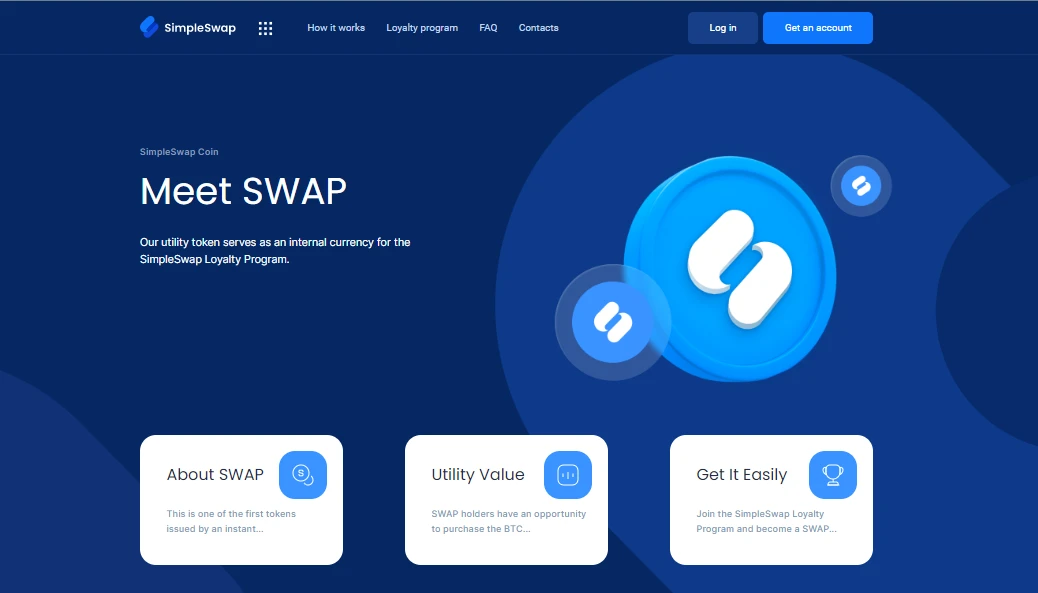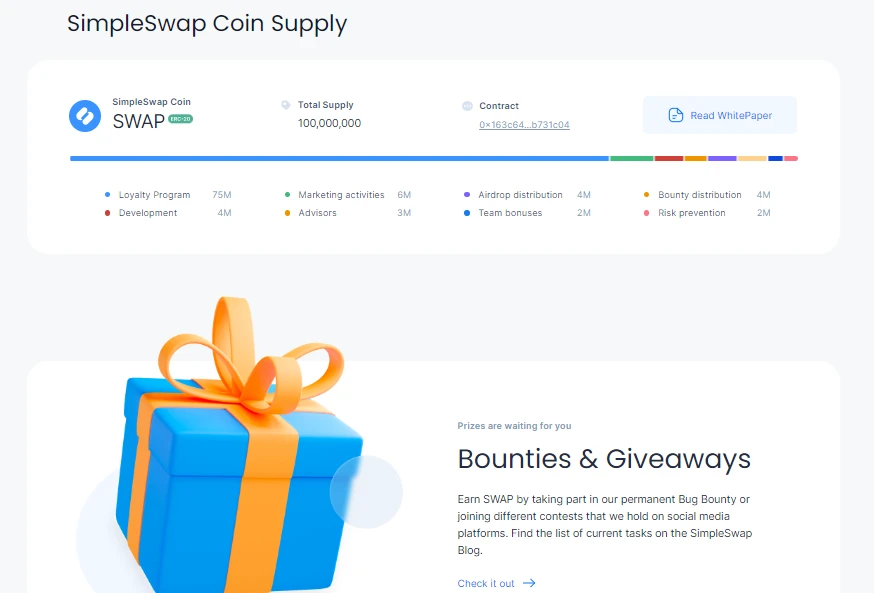 SimpleSwap coins (SWAP) are the internal currency for the platform's loyalty program and hold a utility value where users can get BTC cashback, promos, unique branded goods for crypto enthusiasts, and other advantages. SimpleSwap Coins may also be earned as a reward for bounty campaigns, social media contests, etc.
How Does SimpleSwap Work
The SimpleSwap cryptocurrency exchange provides an intuitive interface and speedy transactions. With over 500 assets and a diverse variety of trading pairs, the platform attracts a large number of users.
SimpleSwap is available on both web browsers and mobile applications. Its mobile app is supported by both iOS and Android and can be downloaded from AppStore and Google Play. Registering an account for making exchanges and quick transactions isn't required on the platform. However, certain benefits to being a registered customer of this instant crypto exchange include participation in their Loyalty Program.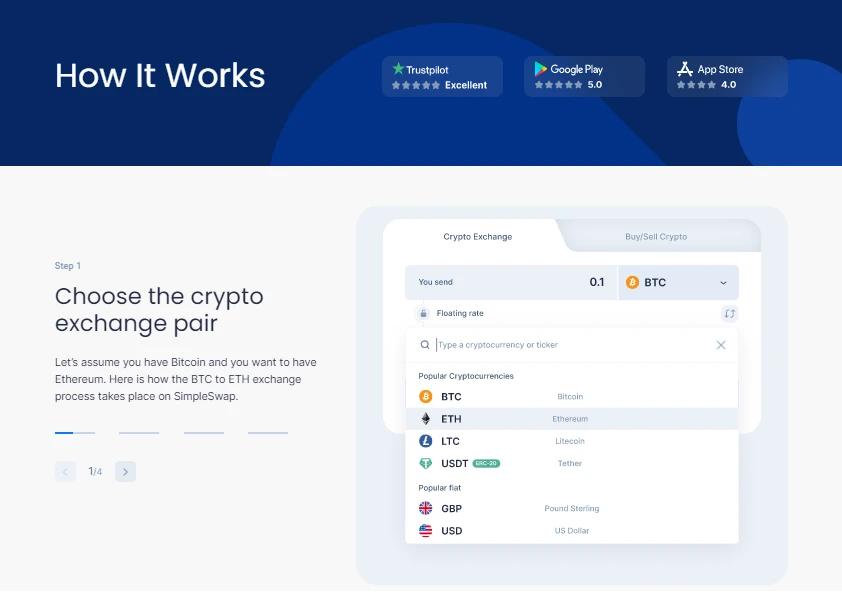 Follow the steps highlighted below to start trading on SimpleSwap:
Visit the SimpleSwap homepage
Choose a floating rate or a fixed rate
Select the crypto you want to swap under the first drop-down list
Select the crypto asset you'd like to receive on the second drop-down list
Enter the amount of crypto to be swapped and the recipient's address
Click on Exchange to complete the transaction.
The platform doesn't charge withdrawal fees but charges a total of 4.95% for deposits in fiat currencies. and commissions on Visa and Mastercard deposits. The SimpleSwap fees depend on the crypto you buy and are believed to be included in the cryptocurrency prices offered for exchanges.  
SimpleSwap Features
While SimpleSwap doesn't offer advanced trading features, here is the list of features that help the platform provide a great user experience:
Instant transactions through cryptocurrency exchanges, with funds being typically deposited within a few moments.
Wide range of supported cryptocurrencies.
The platform's own SimpleHold free crypto wallet that supports a wide range of crypto assets and employs AES to safeguard SimpleSwap users' private keys.
24/7 customer support with a live chat feature, through which users' issues can be quickly resolved. The support staff may also be reached by Twitter, Telegram, email, etc.
Price alert notifications through the mobile app.
No sign-up, no KYC, and no restrictions on the number of coins to exchange, i.e., you can swap as much crypto as you want.
The SimpleSwap trading system integrated into the largest cryptocurrency exchanges to quickly find the most profitable exchange rates.
Fixed-rate exchanges allowing traders to get the exact estimated amount of crypto.
Attractive Affiliate and Loyalty Programs.
The platform's own SimpleSwap Coin.
SimpleSwap mobile app allowing users to swap assets on the go.
Intuitive and effective interface.
Supports multiple deposit methods.
Tailor-made solutions for those who want to connect their business with the Crypto World.

SimpleSwap Registration
SimpleSwaps is a registration-free instant cryptocurrency exchange that allows you to start trading immediately.
Simply visit the site, enter the data, and execute the swap or transaction without KYC verification. However, the platform requires a mandatory KYC verification when dealing with any problems or incorrect transactions.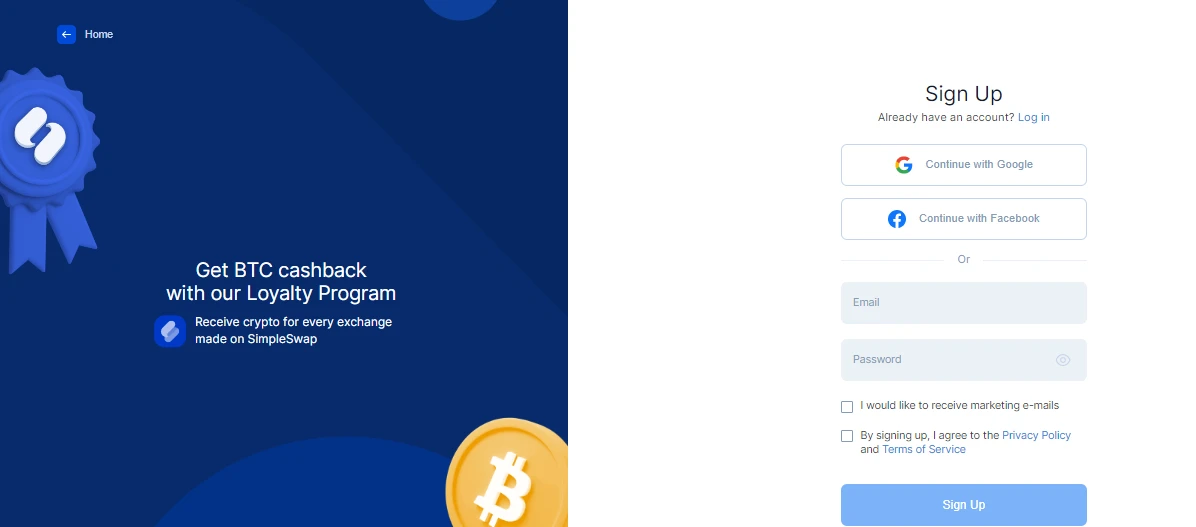 To create a SimpleSwap account, simply enter your credentials and follow the on-screen instructions. The platform also supports logging in with Google and Facebook accounts. SimpleSwap rewards all registered customers executing a swap on the platform with 1,000 SWAP coins.
Buy and Sell Crypto
You can not only swap cryptocurrency on SimpleSwap but also sell or buy crypto with fiat. The platform has partnered with Mercuryo to enable the exchange of 14 fiat currencies, including USD, EUR, GBP, RUB, UAH, and TL, to crypto.
Follow the steps highlighted below to purchase cryptocurrency with fiat money on the platform:
Visit the SimpleSwap homepage and choose the Buy/Sell Crypto tab
From the drop-down list of the "You send" section, choose the currency you'd like to pay, like the USD, and enter the amount you want to spend.
From the drop-down list of the "You get" section, select the cryptocurrencyyou'd like to buy, like BTC. You'll see the estimated amount you get, and if everything is correct, select "Exchange."
Ensure to enter the correct address where your crypto should be sent.
Agree with SimpleSwap and Mercuryo Terms of Service and Privacy Policy.
Click "Go to the exchange page." You'll be redirected to Mercuryo's page to make the payment. Mercuryo requires you to enter data to verify your identity if it's your first time buying crypto with fiat. This applies to purchases over €900 only; however, in some regions, you may be asked to pass verification. Once the necessary information's provided and confirmed, you can easily buy crypto with credit and debit cards without going through this process again.
Your exchange will be completed and displayed on the screen.
SimpleSwap Fees
Each transaction and swap with SimpleSwap is subject to a fee. The price, however, is classified as a network fee rather than a trading fee. The fee structure is not adequately specified by the company, but the exchange prices are assumed to incorporate the cost in advance. This is certain to cause alarm among customers who desire to trade large amounts of crypto assets such as Ethereum and Bitcoin on the site.
Users can select a floating or a fixed exchange rate.
Commissions are charged on Visa and Mastercard deposits and a total of 4.95% for fiat currency deposits. SimpleSwap offers customers a specific rate based on market rates for crypto to crypto swapping.
There are no fees for opening an account or for any account inactivity.
SimpleSwap doesn't charge a withdrawal fee since it never keeps any assets in the first place.
Integration With Exchanges
The SimpleSwap trading system is integrated with the world's leading cryptocurrency exchanges such as Binance, Kraken, Swapzone, OKX (formerly OKEx), KuCoin, Poloniex, Bitfinex, Bittrex, HitBTC, Huobi Global, etc., to identify the most profitable exchange rates for its customers quickly.
Payment Methods

SimpleSwap supports multiple payment methods. SimpleSwap users can buy crypto using cryptocurrencies and fiat currencies. The platform supports Visa and Mastercard, bank accounts, Google Pay, and Apple Pay.
The complete list of fiat currencies, cryptocurrencies, and trading pairs offered by SimpleSwap can be checked on the company website.
Visa and Mastercard are the only means to deposit fiat into the exchange, and there are no minimum or maximum limits for depositing into the exchange. The total commission fee for the deposit is 4.95% of the total amount deposited.
The fiat deposit is supported in partnership with Mercuryo, which requires users to complete KYC verification before depositing money on the platform.
The network fee for depositing and swapping crypto depends on the trading pair involved and is affected by the coin's blockchain.
Supported Countries
SimpleSwap is accessible on multiple continents; however, it's not available in the United States. For fiat to crypto exchange, the service is available in all countries except those on the FATF list.
SimpleSwap Loyalty Program

SimpleSwap's Loyalty Program rewards users with a 0.5% cashback in SWAP for each completed transaction. It also allows users to purchase a BTC cashback subscription by creating a customer account and enabling the Loyalty Program on the "Subscription" page. Customers who've accumulated a sufficient number of SWAP tokens can purchase a Bitcoin cashback subscription.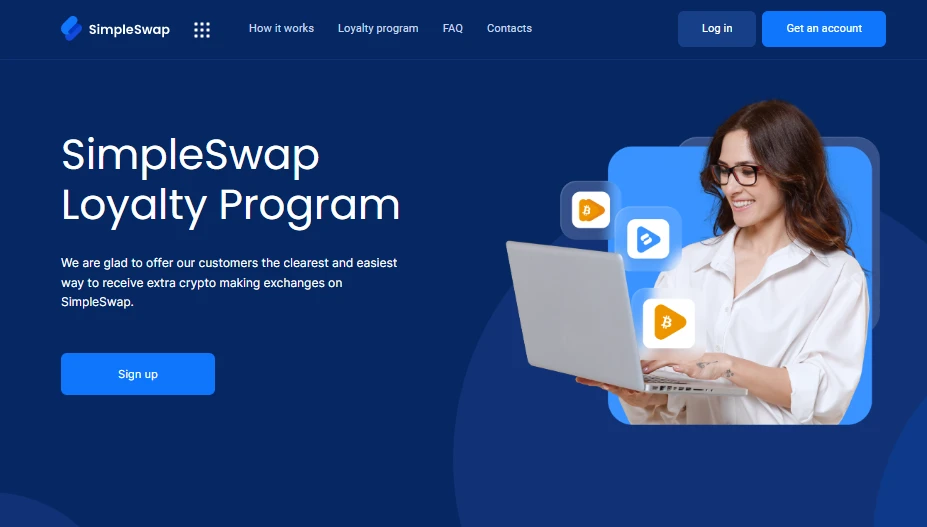 SimpleHold Wallet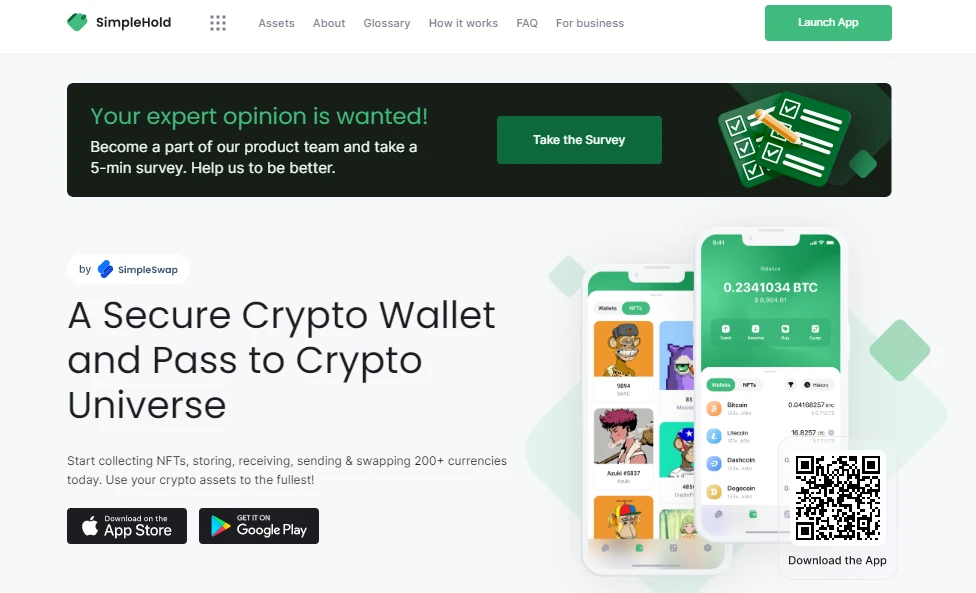 SimpleHold is SimpleSwap's non-custodial (light) wallet. It was developed by the SimpleSwap team and enables users to transfer, receive, and securely store major cryptocurrencies and non-fungible tokens (NFTs). SimpleHold is available as a mobile app (iOS and Android) and a browser plugin (Chrome, Firefox, Brave, etc.).
SimpleSwap Unique Features
SimpleSwap offers some unique features that set it apart from most cryptocurrency exchanges. The platform's trading system is linked to some of the world's most significant crypto exchanges allowing users to exchange more than 500 crypto assets at the best rate. SimpleSwap users don't need to store their funds on SimpleSwap because the platform processes all exchanges instantly. Also, no sign-up is required, no trading limits, and no need for KYC verification for buy and sell orders up to 900 USD and equivalents.
SimpleSwap also provides fiat-to-crypto and crypto-to-fiat services, enabling users to buy crypto with fiat through Mastercard and Visa credit and debit cards.
Users can start trading digital assets immediately via its easy-to-use, intuitive interface available via the website or mobile app.
SimpleSwap API
SimpleSwap also provides a transparent and easy-to-use API (application programming interface) with market intel that allows the integration of exchanges with floating and fixed rates. The API can be used by developers or investors to examine the cryptocurrency market trends, analytical data, etc., to make more profitable investments.
SimpleSwap Security
SimpleSwap offers a high level of security comparable to that of some of the largest exchanges and platforms in the decentralized financial sector. The company's wallet also has a good security rating because of its AES encryption technology. SimpleSwap doesn't keep any assets, so the platform isn't a common target for cyber assaults. However, users are urged to consider all factors when evaluating safety and security, such as the exchange, protocols, and wallet.
SimpleSwap Customer Support
SimpleSwap offers 24/7 customer support in English. SimpleSwap users can use the live chat support to get their queries solved quickly, raise tickets, or send emails. They can also browse the FAQ Section to get answers to common issues. The SimpleSwap support team has been very effective and quick in responding to users' problems.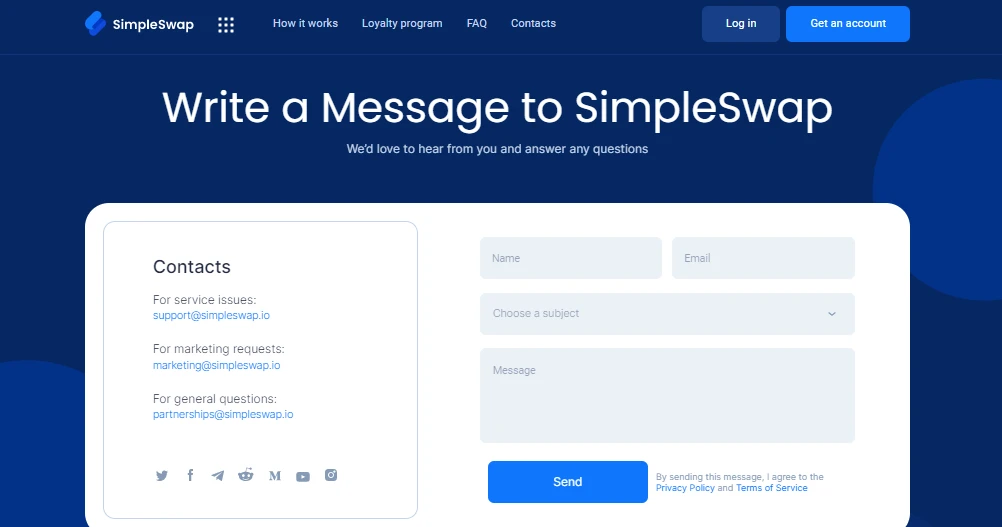 SimpleSwap Regulations
Despite operating in multiple countries, SimpleSwap is not regulated. The platform abides by the local laws and regulations of the locations in which it operates, and its partners are all regulated in various jurisdictions.
FAQs
Is SimpleSwap Safe
SimpleSwap appears to be a secure and trustworthy platform. There have been no records of hacks or lost money from the exchange.
Does SimpleSwap Support THETA
Yes, SimpleSwap supports THETA.
Is SimpleSwap Available in the United States
No, SimpleSwap is not yet available in the United States. United States residents will have to look for an alternative instant trading platform that doesn't require verification.
Final Thoughts
SimpleSwap is a versatile and easy-to-use instant platform that enables users to start trading immediately without undergoing extensive verification or trading limits. It's a top recommendation for users wishing to trade a wide selection of cryptocurrencies without bothering about liquidity pools. The platform's unique features and reliable service make it efficient, convenient, and transparent.
You're also welcome to visit our CoinStats blog to discover a broader perspective on decentralized finance and how it seeks to empower people.
You can also read our articles such as What Is DeFi, explore our in-depth guides on various topics, such as What is PanCakeSwap, What is SushiSwap, Top 10 Metaverse NFT Projects, Best NFT Games, How to Buy Cryptocurrency, and learn more about wallets and exchanges, portfolio trackers, etc.
Investment Advice Disclaimer:  The information contained on this website is provided to you solely for informational purposes and does not constitute a recommendation by CoinStats to buy, sell, or hold any securities, financial product, or instrument mentioned in the content, nor does it constitute investment advice, financial advice, trading advice, or any other type of advice.
Cryptocurrency is a highly volatile market, sensitive to secondary activity, do your independent research, obtain your own advice, and only invest what you can afford to lose. There are significant risks involved in trading CFDs, stocks, and cryptocurrencies. Between 74-89% of retail investor accounts lose money when trading CFDs. You should consider your own circumstances and obtain your own advice before making any investment. You should also verify the nature of any product or service (including its legal status and relevant regulatory requirements) and consult the relevant regulators' websites before making any decision.